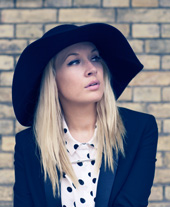 Kamilia Amélie started singing when she was 2 years old - at least that's when her family first noticed that she did it well.
She naturally practiced singing by listening to professional artists and intuitively copying what she heard. After her mother took her to a dance class when she was 6 years old, dancing became as important to her as singing. She started writing songs at the age of ten and had her debut, singing on stage, two years later.
She became a member of her school's choir and later began playing a bit of piano, which helped her to compose.

Kamilia attended the music academy "SAGA" in Denmark, took dance-education classes at Gaardbodans/Flow Dance Academy and then spent three months in Paris taking dance classes and doing street shows with a group of French b-boys. In between, she danced in the hip hop version of "The Nutcracker" in Tivoli's concert hall three seasons in a row, taught hip hop, house and contemporary dance at Gaardbodans and was a backup singer for Wafande, who also features on the album. She met producer Steven Mahona from Nephel Music in May 2009 and they immediately started collaborating. They quickly found their style. After finishing about five tracks, they realised that people had an interest in their project, which made them work even more intensely towards creating a complete album. In 2011, she was featured with the house producer Faustix on the tracks "Weapons" and "Machine" and as a songwriter she has been co-writing with other artists as well. Kamilia Amélie was support for Lukas Graham and did 43 concerts on their spring tour all around Denmark and Germany. She released her debut single "Little Darling" the 19'th of April 2012, held her release party @ Scandic front the same day and became DR Mamas Kæledægge 3 weeks later. This is the beginning.

Come what may....